Manx Youth Orchestra returning this month
[ad_1]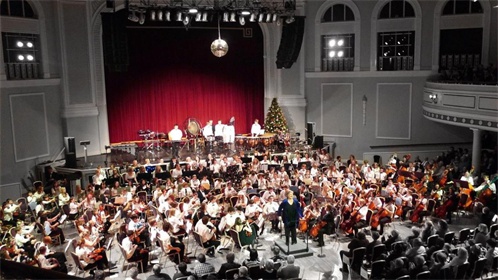 The Manx Youth Orchestra (MYO) is set to return to the big stage with some festive cheer this month.
The group will perform its annual Christmas Festival Concert at the Villa Marina on Saturday, December 12.
The occasion brings together 200 musicians from numerous Island groups including Wind Bands, The Manx Youth Jazz Orchestra and the Senior Manx Youth Orchestra.
Head of Music Service and conductor of the Senior Manx Youth Orchestra, Maggie Richardson, says: "It is possibly the only concert of its kind in the whole of the British Isles, if not the world this year and I am delighted we're in this position.
"After a six month break we were a little worried before our first rehearsal but from the very first week we have been bowled over by the commitment from our young players who have responded so energetically and joyfully to the repertoire for this concert."
The programme will feature music from the likes of Leroy Anderson, Haydn, Stevie Wonder and Taylor Swift.
Tickets are £10 for adults and £5 for children and are available from the Villa Marina reception, online at www.villagaiety.com or at the Welcome Centre in Douglas.
Proceeds will be split evenly between Friends of the MYO and The Teapot Trust.
More from Isle of Man News
[ad_2]
Source link